| | |
| --- | --- |
| Off Season   (November — February, excluding Holidays) | $179 – $239 |
| Elk Rut Season   (day after Labor Day through October) | $259 |
| Summer Season   (March — Labor Day) | $289 |
| Holiday Weeks (Price depends on the holiday. Please call 866.733.9637) | $229 – $289 |
* Rates are based on 6 person occupancy; additional occupants at $15.00 per person up to 8 persons. All bookings require an additional 12% county bed tax and a $65 cleaning fee. No pets allowed, unless specified. Other charges may include fees for dogs, damages, additional cleaning, cancellations, etc. Please carefully read the policies below.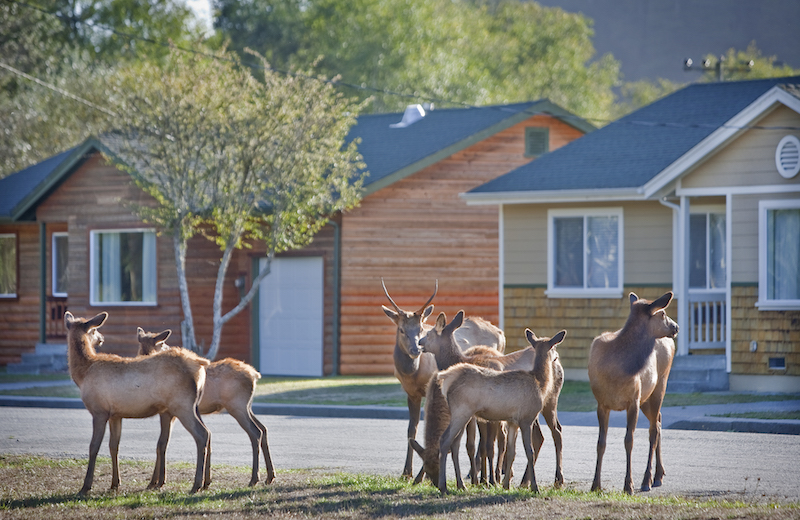 Amenities
Six of our luxury cabins are 3 bedrooms, 2 bathrooms and our newest 7th cabin (Beachcomber) is two bedrooms, one bath with a mini kitchen.
You'll have everything you need to enjoy your stay in the Redwoods… truly a home away from home! Please check the Gallery page to see the exact amenities for the cabin of your choice.
For additional details on the Beachcomber cabin, please call (866) 733-9637.
The FOLLOWING amenities describe what you will find in the Three Bedroom Luxury Cabins:
Bedrooms & Bathrooms
Two bedrooms with queen size beds
One bedroom with two twin beds
One bathroom with double sinks and bathtub shower
One bathroom with standing shower
Kitchen
Full-size refrigerator
Sink with disposal
Automatic dishwasher
Four-burner stove
Full-size oven
Microwave oven
Cooking and eating utensils
Coffee maker
Dinette with seating for six
Three barstools at kitchen counter
Family Room
24″ up to 40″ TV
100+ channels on satellite
DVD
Seven-foot couch with full-sized pull-out bed
Two lounge chairs
Other Amenities
Stacked washer & dryer
Back porch with seating and BBQ
Onsite Jacuzzi and fire pit
Attached 12- x 20-foot one-car garage (perfect for parking or storing motorcycles, bicycles, kayaks, etc.)
Off-street parking and street parking
A credit card is required to make a reservation and hold the cabin. By making a reservation you are agreeing to accept charges to your credit card in lieu of a security deposit. Charges may be made to your card to cover damages, or to charge for non-compliance with any of our policies (please see below).
All reservations require a 25% deposit toward the total cost, which is due the day you make your reservation. The remaining balance is due 30 days prior to your arrival date. Reservation must be made by credit card (Visa, MasterCard, or American Express).
If you book 30 days or less prior to your arrival date, payment is to be paid in full at the time of reservation. For cancellations made prior to 30 days before arrival date, the deposit will be refunded in full minus a $50 per cabin cancellation fee. Cancellations made less than 30 days before arrival date will receive no refund. Other fees may apply.
Dog Fee: Pets only allowed in cabins #11 and #17. $15 per night (40 lb. dog maximum). A minimum of $50 will be charged if your pet causes any damage. Park rules must be observed on site, which includes dog on leash at all times. Exceptions may be granted, please call us with questions and special requests.
Substitution of Cabin
We reserve the right to substitute comparable accommodations without notice or liability should your assigned cabin become unavailable.
Smoking Policy
Smoking is not permitted in the rental cabins.  Violations of this policy will be immediate cause for possible termination of the rental agreement and the guest will be liable for any cost of removing odors and thoroughly cleaning the cabin.
Pet Policy
Pets are not permitted in most cabins. Pets are only allowed in cabins #11 and #17. Violations of this policy will be immediate cause for possible termination of the rental agreement and the guest will be liable for any cost of removing odors and thoroughly cleaning the cabin.
Checkout
Check-out time is 10:30 AM. Late departure could result in you being charged for another day's stay.  In order to help us keep the cabin as nice for the next renter as it was for you, we ask that you please adhere to the following rules:
Put dishes in dishwasher.
Wipe clean microwave, tables and counters.
Bag all your trash and place in trash cans located in trash bins or cans near cabin.
Place wet towels, washcloths, and used linens in the bathtub.
Turn off all lights and appliances.
Lock all doors and windows upon your departure and return the key to the lock box.
Set thermostat to 55 during the winter and off during the summer.
Any personal items left behind or lost during a stay are the responsibility of the guest, not of Redwood Adventures. However, we will ship back any items that are found (if the guest requests them) by a local shipping service. Shipping costs will be charged to the guest's credit card.
Trash
Trash can be a major issue because of wild animals.  Please be mindful of your care and handling of trash.  Keep the bins completely closed and avoid leaving trash outside unattended.  Trash service in our area is provided weekly by truck.  Trash must be placed in bags, tied tightly, placed in trash can with lid on tightly for it to be accepted.  Please separate cardboard boxes, recyclable bottles and cans and leave them in the garage.  Do not over stuff trash cans or place trash on top of lids.
Quiet Time
Please respect the quiet hours of 10:00 pm to 8:00 am for everyone's enjoyment.
Damages & Miscellaneous Charges
If there is a need for any extra cleaning upon your departure, you will be charged a minimum of $75.00 (or more depending on the nature of the mess and/or damage).
Any guest that we are forced to evict will forfeit all monies paid and no credits will be issued.
Please remember that a signed rental agreement is considered a legal and binding contract and therefore gives Redwood Company the right to collect payment for damages, missing items, and excessive cleaning that are made necessary by your stay.  Excessive damages, vandalism or theft may result in legal action.
The cabins are not to be used for parties or gatherings that exceed the sleeping capacity of the cabin without prior permission from Redwood Adventures.
Full payment for all damages, missing items and extra cleaning are the responsibility of the guest and will be billed to the credit card of the guest who signs the rental agreement.
There is a $25 fee for any lost keys.
Release Of Liability
The registered renter agrees to indemnify Redwood Company for any damages to the premises which result from the renter's occupancy (including furnishings and household items).  The registered renter assumes full responsibility for any and all damages that his/her group causes, excessive cleaning charges for problems caused by his/her group or for any items found to be missing after his/her group's visit, including linens and towels.  Redwood Company is not responsible for accidents, falls, injuries or illnesses that occur on the premises or for loss, damage, or theft of any guest property.  By accepting this reservation, it is agreed that the registered renter and all of his/her guests are expressly assuming the risk of any harm arising from their use of the premises or others whom they invite to use the premises, including harm caused by wild animals.  The registered renter agrees to save and hold harmless Redwood Company from and against any injury, loss, damage, liability, or cost to the registered renter or his/her guests occurring during the use of the cabin.
REDWOOD ADVENTURES VACATION VILLAGE CABINS ("THE CABINS") ARE BEING RENTED "AS IS, WHERE IS", WITH NO REPRESENTATIONS OR WARANTIES OF ANY KIND RELATED TO HTE CABINS, INCLUDING BUT NOT LIMITED TO WARRANTIES AGAINST PATENT OR LATENT DEFECTS IN THE MATERIAL, WORKMANSHIP, CONSTRUCTION OR CAPACITY OF THE CABINS AND THEIR CONTENTS. ANY WARRANTIES AS TO THE FITNESS FOR PARTICULAR PURPOSE OR MERCHANABILITY ARE EXPRESSLY DISCLAIMED. YOU ACKNOWLEDGE THAT THERE HAVE BEEN NO EXPRESS WARRANTIES, GUARANTEES, PROMISES OR REPRESENTATIONS CONCERNING THE CABINS AND THEIR CONTENTS.
Any disputes arising under this Agreement shall be mediated subject to the rules of the American Arbitration Association at the branch office closest to Orick, California.
Bears, Mountain Lions, Elk, etc.
Please be aware that there are bears, mountain lions, elk and other wild animals living in the area, as well as other natural hazards.  Please contact a Redwood Adventures or Redwood National and State Parks visitor's center for more information.
Maintenance and Refunds
All cabins will be inspected after each rental.  Everything will be checked to make sure it is in working order before your arrival.  If for some reason there is an appliance failure, we will make every effort to fix it promptly.  We do not offer any discounts, refunds or credits for early departures, malfunctions in the appliances, power outages, or no shows due to weather conditions or any other reason.  Please call our office if you have any maintenance or housekeeping issues during business hours.
Maximum Occupancy
Each cabin has a maximum occupancy limit of 6 persons, and rates are quoted based on the number of guests expected.  Non-compliance with these maximum occupancy limits may result in immediate eviction without refund and/or additional charges.
Cars
Garage capacity is limited to 1 midsize vehicle.  Driveway and curbside parking accommodate two additional cars. Overflow parking is available.
Condition and Use Of Premises
You are expected to treat your accommodations responsibly. Normal wear and tear is expected and we encourage you to enjoy your stay and the beautiful surroundings. However, damage to the premises not caused by normal wear-and-tear not only costs you money, it inconveniences others that have reservations.
Your credit card will be charged for damages to the premises or furnishings. Additionally, if there is extra cleaning, your credit card will be charged. Extra cleaning includes dirty dishes left in the sink, unreasonable amounts of laundry for the number of occupants on the premises, unreasonable heavy cleaning required (heavily soiled floors and/or carpeting; heavily soiled tub and/or shower, etc.), and furniture not in its original place that has to be moved back.
At times there are extreme weather conditions on the North Coast resulting in power outages. While we work to soften the impact these events have on your trip we cannot offer compensation.
Notice: If you observe any conditions which you consider dangerous, please immediately report the problem to Redwood Adventures. Redwood Adventures cannot be held responsible for conditions beyond the control of Redwood Adventures.
House Parties
No loud house parties or unsupervised large student groups are allowed.  We reserve the right to refuse service to anyone, at our discretion.  Young people must be accompanied by a parent or legal guardian.  We do not rent to anyone under age 21.  If a loud or otherwise disruptive party is discovered to be taking place in any of our cabins, the entire group will be required to leave.  No refunds will be given.  If a guest DOES have a party of which we are made aware, that guest will be charged for any and all damages discovered and the same will be reported to the local police department.
Pet Policy
Small pets may be permitted only in those rental cabins that specifically identify and state that they are "Pet Friendly" properties.  Other than those specifically identified properties, no animals of any type are permitted inside the premises of any rental cabin at any time.  For properties designated as "Pet Friendly", one or two small pets (up to 40 lbs. each) are allowed and there will be a non-refundable pet fee of $15 per day.  If a pet is found in any of our cabins that do not allow pets, you may be subject to immediate eviction without a refund and/or charged no less than $200.00 for any cleaning and fumigation that is needed to be done.  You will be charged for any damage your pet causes.
Fire Safety
Our cabins are all wood structures and located in wooded areas so it is of utmost importance that you adhere to the following rules:
Only have fires in the firepit area and keep small enough to fit within the diameter of the fire ring or fire pit.  Do not leave fires unattended and always throw water on fire when finished.
Use caution when removing ashes and only dump in firepit or bury.
Tents
Tents are not permitted without prior approval.
"What a wonderful place to spend Christmas with our extended family. Despite the rainy weather, we still hit the hiking trails and warmed up in the hot tub! We'll be back!"
"We loved the cabin, wonderful place and we will be back next year!"
"Fantastic two days. Elk, forests, huge trees! Who could ask for more. Thanks!"
"Beautiful cabin! We had a great time and It's nice that the cabin came with everything and more . . .We will be back! Thanks for making this a home away from home. P.S. Yeah it is awesome! "
"We loved this home-exceeds our expectations. Wish we could just live here… Definitely coming back, we can't wait to see the beautiful redwoods again! Thank you. "
"Clean, cozy, comfortable, well-equipped cabin. Perfect home base for a week's hiking. Recommendation to all September guests: Buy a box of Bisquick, pick blackberries and make fruit cobbler! We were for a week and hiked every day. This was a wonderful place to come home to everyday. I do recommend hiking the James Irvine Trail (Prairie Creek State Park) if you only pick one trail to hike while you are here!!!!"
"We enjoyed our stay. It is an amazing view. It was our first time here and we will defiantly be back. The cabin has a good home feel and I like the idea of having 6 cabins in a line and nothing but open space around makes it feel very friendly with the neighbors. Great stay and fun activities-thanks for the memories that will last a life time. "
"We loved the cabin! It has all the comforts of home. There are not too many places where you have elk in your front yard!! This is a beautiful part of California. We hope to come again. Fern Canyon is a must do-and close by!!"
"I just wanted to send a note and thank you for the wonderful cabin and stay at Elk Meadows. The cabin was immaculate and you guys had thought of everything, including an emergency kit if the power were to go out!

I've been to 19 countries in 3 continents, and have stayed in a variety of accommodations, and I have to say, hands down, you guys are best in class. I cannot think of a single thing you could improve on. Just keep it up!

Your cabins have us planning another trip to the Redwoods, just to use Elk Meadows as "base camp"!"
"Very happy with the house and useful items. We all enjoyed seeing so many elk in the front yard and areas behind the blackberry bushes. Great location, enjoyed the lagoons and fern canyon. We saw a Bald Eagle on the beach trail"
"We had three 'cabins' (better outfitted than any house). A fantastic place for our reunion's needs. Close for companionship, but with plenty of space and wonderful places to visit nearby. The elk in the backyard were a unexpected treat!"
"Very special and peaceful place. Second time staying here and even better than the first! Lovely cabins."
"This cabin is beautiful and had everything we could need. We were very impressed with your attention to detail. We would stay here again in a heartbeat! Thank you. Also, the people working here we very helpful and thoughtful when we had questions about the area."
"I loved this cabin!!!! P.S. There was Easter Candy!"
"This is a beautiful and relaxing house. We loved our stay here. The boys loved walking up to see the Elk and I loved hearing the frogs at night. We will be back."
"This is an awesome place place for family getaway vacation!!! Nice and clean in every sq. inch of the place. Hats off to Donna for a wonderful job. Will be here next time."
"Beautiful cabin! So impressed with cleanliness and décor. So happy to have stayed here even if it was only for one night. Will definitely recommend it to friends and family. Hope to come back and visit soon."
"The cabin was perfect for us. Cozy, beautifully furnished and conveniently located. During the winter, it seemed like we has most of the area to ourselves. Fern Canyon & Tall Trees Trail were wonderful. We will definitely recommend to friends and family and we will be back as well."
"I loved this place. It has comfy beds and a full kitchen and laundry. I don't think I have ever seen such nice guest cabins anywhere before."